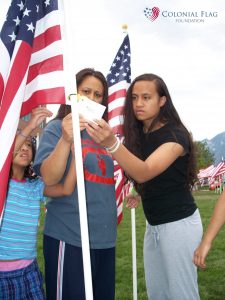 Consider celebrating someone you know or admire by buying a flag to fly at the Healing Field of Honor. Some people remember a family veteran or a member in active service, others dedicate flags to parents, teachers, or other personal heroes, while still others buy a flag to recognize the sacrifice of our fallen soldiers. Whatever the reason, flying a flag in memory of someone is a moving experience to share with the whole family. Your personal dedication message will be printed on a tag and attached to your flag for all to read. Please join us and walk the flag display. Find your flag and then read all the others that make up this amazing tribute. This is the perfect opportunity for all of us to unite as a community and to remember and honor all of our courageous Americans.
The flag kit is $50 each and yours to keep after the event. It includes a quality 3'x5' flag, 8' pole, and a piece of rebar to hold it securely in the ground. Each flag will display a tag with the donor's name and your own dedication message. This year we are also offering 12″x18″ five military flags, as well as POW/MIA and Gold Star flags that can be flown underneath the American flag. Look for these on the purchase page or click here. The display of 1,000 flags will be in front of Handley High School in Winchester from May 25th until May 29th when final taps will sound.
If you are buying more than one flag, please place a separate order for each one so that a separate dedication tag can be made for each one. If you have any questions or problems, please email healing-field@winchesterrotary.com.
Flags must be picked up between 3-5 pm on May 29th at the Healing Field of Honor located in front of Handley High School in Winchester. Unclaimed flags cannot be stored. However, flags can be gifted to the Winchester Rotary Club if the donor has no need for them.