BUY A FLAG DONATE BECOME A SPONSOR OUR SPONSORS
You can also purchase additional flags on site at Handley High School. We have people to assist you and can take credit cards on site.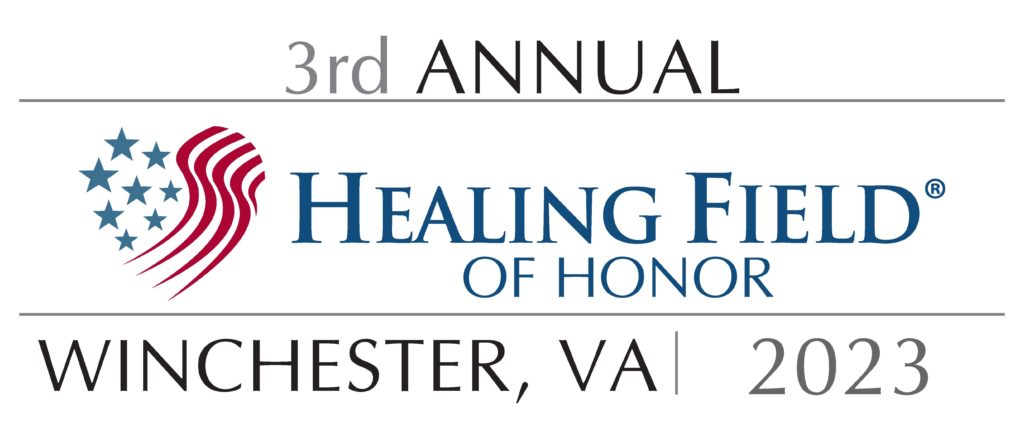 Location: Handley High School ~ 425 Handley Blvd. and Valley Ave., Winchester, Virginia 22601
United States flags will fly again in a solemn formation during May of 2023 creating an awe-inspiring panorama. This stirring display of over 1,000 flags will bring our community together in a patriotic tribute to honor our heroes. Each U.S. flag represents an individual and tells a story. Flags may be sponsored to honor individuals currently serving in our military, veterans, first responders, heroes in our lives, and hometown heroes. They will fly in tribute to heroes who have earned our gratitude though their service and sacrifice. The legions of American heroes have swollen this year to include COVID-19 heroes who, despite personal danger, have treated the sick, cared for the dying, and provided services for us all. This unique event is the perfect opportunity for all of us to remember and honor our many heroes.
The Stars & Stripes reminds us of who we are as a people. As Americans we become stronger as we meet challenges and overcome hardships. The United States flag represents our solidarity in creating a brighter tomorrow and uniting us all.
This moving display is a gift to the community from the Winchester Rotary Club made possible through donations, sponsorships and the efforts of many dedicated volunteers. You can show your support and gratitude by sponsoring a flag or making a donation.
Additionally, the display will raise funds for the many charitable programs of the Winchester Rotary Club. During this especially difficult past few years alone, the Rotary Club donated and delivered hundreds of meals to the WATTS program, the Emergency Shelter at the Old Armory Building, the Evans Home for Children, the Rescue Mission as well as provided much needed supplies for CCAP and the Highland Food Pantry. The Club also presented Christmas gifts to the residents of the Evans Home for Children and donated more than 800 Coats For Kids over the holidays. All funds raised from this event will continue the Club's charitable work in our community.
This is an event that must be seen to be fully appreciated and is an experience not to be missed. Please visit the Healing Field of Honor® display and invite your family and friends to walk with you among the ordered rows of U.S. flags. There is no better way to observe Memorial Day.
The display is open to all free of charge 24/7.
Opening Ceremony, Thursday, May 25th at 6pm

Closing Ceremony, Monday, May 29th at 3pm – SEE DETAILS BELOW

Information Booth Hours:
Thurs., May 25th: 3:30pm – 8:30pm
Friday, May 26th: 10:30am – 7:30pm
Sat., May 27th: 10:30am – 7:30pm
Sun., May 28th: 1:30pm – 6:30pm
Mon., May 29th: 9:30am – 6:30pm
TO PURCHASE A FLAG, click here.
TO BECOME A SPONSOR, click here.