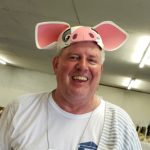 THE 2022
13TH ANNUAL
RUMMAGE SALE IS FAST APPROACHING!
June 11th & 12th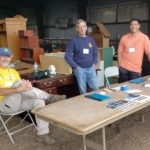 Community Drop-Off
The community can drop-off any donations from June 1st until June 8th between the hours of noon and 8pm every day at the Frederick Co. Fairgrounds. For help with large items, please see the Donation page (see above) to schedule a pick up. For more information, contact rotaryrummagesale@gmail.com or call/text Jean Barch at 540-247-8402.
XXXXXXXXXXXXXXXXXXXXXXXXXXXXXXXXXXXXXXXXXXXXXXXXXXXXXXXXXXXXXXXXXXXXXXXXXXXXXXXXXXXXXXXXXX
The Rummage Sale is on again this year! It will be held the second weekend in June, the 11th & 12th. Saturday hours are 7-8 am for EARLYBIRDS ($10) and free from 8 am – 3 pm. Sunday will be open from 10am – 3pm. All non-profits are welcome to come to pick items for free after 3pm.
Last year was the first time that the Rummage Sale has been held at the Frederick Co. Fairgrounds in Clearbrook. And what a success it was! More space, easier parking, 3 buildings full of treasures. We will have the sale at the Fairgrounds again this year to continue the tradition.
BENEFICIARY: This year's beneficiary is the Stonewall Ruritan Club (a 501(3)c organization). We will help them replace their antiquated manual sign along Rt 11 to an updated electronic one. They will use this sign to announce not only their events, but those for other nonprofits in our community like the Kiwanis Pancake Breakfast, Relay for Life, the Discovery Museum events, scheduling for WATTS, and, of course, events for Rotary and the Fairgrounds. The hope is that this sign will be the first step in bringing all of the nonprofits together in our community to work together for the benefit of all. Last year we were able to buy a much needed 12 passenger van with the help of the Stonewall Ruritan Club and a generous donation by a fellow Rotarian for the Evans Home for Children. Some other local charities we have supported in the past include Blue Ridge Hospice, the Discovery Museum, Bright Futures, and the Boys & Girls Club.
**********************************************************
If you have any questions, call Jean Barch at 540-247-8402 or email rotaryrummagesale@gmail.com.
DONATIONS: As you clean out your closets, garage or attic over the next year, please consider donating to next year's Rummage Sale. You can arrange for drop off or pickup by selecting the Donation button above. Or donations may be dropped off at one of our monthly Community Drop-Offs starting in March, 2022. Check back for exact dates, times and location as the months go by.
WE CAN'T ACCEPT: baby cribs, car seats, mattresses, computers, computer CRT monitors, refrigerators, dehumidifiers, outdated electronics, large desks, TV armoires, stained or dirty furniture, or any damaged items.
VOLUNTEERS: We are always in need of volunteers. Please use the Volunteer button at the top of the page to send us your information. Check out the surprise benefit from volunteering!
Service clubs, youth groups (middle school and older), sports teams, office co-workers, families, everyone can help. We have opportunities for anyone aged 10 – 100, regardless of physical limitations or abilities.
********************************************************
We thank you in advance for your donations – and helping us make a difference in our community!
Furniture
STYLISH AND AFFORDABLE FURNITURE
Toys, Toys, Toys!