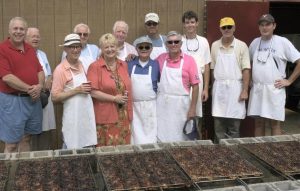 A "Fantastic" Rotary Story
Camp Fantastic is rooted in Rotary. The one-week adventure for children with cancer was founded in 1983 by Winchester Rotarian Tom Baker (1938-2018), who says he "wanted to give these kids a chance to feel normal" after he lost his 13-year old daughter, Julie, to lymphoma in 1976. He and his wife, Sheila, also started Special Love, Inc., the Winchester non-profit that sponsors Camp Fantastic and more than a dozen other programs for young cancer patients. Baker turned to his fellow Rotarians for help in raising the necessary funds to get Special Love and Camp Fantastic off the ground and the Winchester Rotary Club continues to provide dinner on Thursday night (also known as "Visitors Night") during the week.
The Rotary clubs of Front Royal, Culpeper, and Olney, MD also provide dinners during the week of Camp Fantastic and Winchester Rotarian Nick Nerangis brings his McDonald's franchise to camp on the last full day of camp for the campers' most anticipated lunch of the week.
Camp Fantastic and Special Love are well known in the Winchester/Frederick Co. area and have been highlighted in the District Governor's newsletter and twice in The Rotarian magazine. For more information on how you can participate or support Camp Fantastic, contact Special Love at 888-930-2707 or visit their website at www.specialove.org.